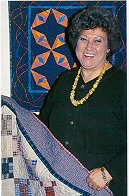 A 

class at the University of Tennessee, Southern Appalachian Folk Culture, was Brenda Manges Papadakis' introduction to quiltmaking. After writing a research paper on quilting, Brenda knew she wanted to make a quilt." Since the early nineteen seventies," she says, 'I've been doing just th

at. Most of all, I enjoy the drafting and designing."This preference reflects Brenda's background as a mathematician. She holds a B.S. in Mathematics Education, and an M.S. in Special Education, both from the University of Tennessee. A teacher for twenty-three years, she has taught a wide range of students, including the mentally challenged and those gifted in mathematics and science.

Brenda's extensive teaching experience enhances her popular quilting classes, which she began in 1991. She specializes in Amish and Japanese quiltmaking and designs, as well as Baltimore Applique. Her quilt teaching credits include workshops in Japan, where she developed a group of Baby Jane enthusiasts. Her present relationship with Jane A. Blakely Stickle has resulted in a fascination for miniature patterns, and an abiding interest in women's history.

In the photograph, Brenda is proudly holding daughter Denise's first quilt.