Dear Jane®CD-ROM.
Includes software and manual with all of the patterns from the Dear Jane book. NOTE: The software will only run on Windows 98 or newer.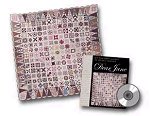 $50.00, U.S.
$82.00 Outside the U.S.
Global Priority or Air Mail
---
Susanna Catherine Culp was born May 25, 1805 in Gettysburg, PA. Her family owned the famous Culp Hill home and farm that was such a pivotal location during the Battle of Gettysburg. The family turned their home into a hospital during the Battle and they lived in the cellar. Karan Flanscha took me to a quilt show at the Grout Museum. There I saw and fell in love with this old blue and red quilt top. Dr. John Glascock, the owner, was kind enough to give me permission to reproduce Susanna's wonderful work and share its history.
Oh Susanna® Book.
$10.00, U.S.
For orders outside of the U.S. please use the contact form below.
---
Contact Us